You might have noticed that the column has a fresh look. Not Before My Coffee originated from a particularly early morning this summer when my daughter arrived in my bedroom and informed me that she was bored. At 7AM. I am the type of person that likes to ease into my day and needs copious amounts of coffee before even thinking about tea parties or laundry or completing a writing assignment. In fact, if you will excuse me for a moment, I am going to go grab another cup before we get started.
OK, I'm back.
Although it is still ridiculously hot outside, cool weather is coming.  I can feel it.  Wishful thinking?  Perhaps, but just so we will all be ready, I have scoured the beauty blogs and fashion mags and clothing stores in search of the must-have style necessities of fall.  For you, the Rocket City Mom readership.  Because I care.
1. Color Jeans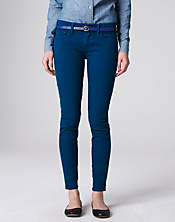 This spring trend has extended into fall with new, deeper colors.  Some of my favorites are peacock blue and burnt orange.  Look for denim with 2% spandex to keep its shape.
2. Animal Prints
Animal prints are huge for fall.  Shoes, bags, wrapping paper—you name it.  My mom and I recently debated on wearing white after Labor Day.  She said that rule was antiquated, but I maintained that it depended on the fabric.  Winter white and leopard, I like.
3. Chambray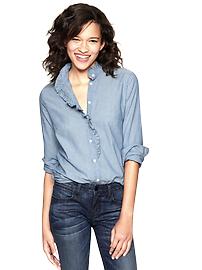 Chambray is incredibly versatile.  Dress it up or down, pair it with a pair of animal print flats, or your new color jeans.  Or both!
4. Statement Necklace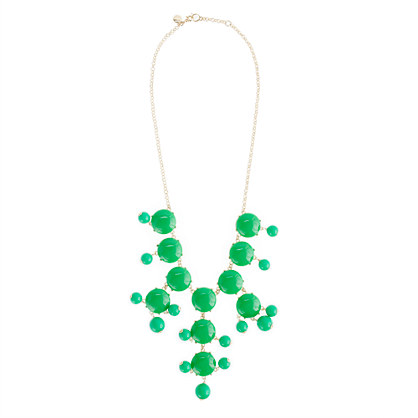 The statement necklace is tricky.  I have a head like a basketball, so I do not like to call attention to my neck.  The shorter statement necklaces tend to do that, therefore, I prefer the longer styles.  Also, I am not a fan of layering statement necklaces.  Your necklace should make a statement, not several.
(Whispers: If the J.Crew piece above is too rich for your blood, I have seen bubble necklaces online that are much more affordable.  You did not hear it from me.)
5. Bright Blazers
Blazers are back and in bold, new hues.   Make sure that it is fitted to avoid a homage to Murphy Brown or the ladies of Designing Women.  And no turtlenecks!
Each of the above items can be found in a local, Huntsville-area store.  And more importantly, they are also all mom-friendly.  No platform booties here!  We need clothes that make us feel good.  It might be the height of fashion, but if I do not feel comfortable, then it will just gather dust in my closet. 
Happy Shopping!
Katie Davis Skelley
Katie Davis Skelley is a Tennessee native who moved to Madison with her family in 2009. Katie enjoys gardening (when not combating her mortal enemy, the Japanese beetle), fitness, singing in her church choir, traveling to exotic lands such as Orlando, and to the consternation of her husband Marc, frequently redecorating rooms in their home. You can read about her adventures in parenting over at Team Skelley and follow her on twitter at @katiedskelley.